International Activities
Overseas Power Generation Business
Laos Nam Ngiep 1 Hydro Project(Under construction )

Dam construction site

Anzen-Kigan Sai(Safe Pray Ceremony) on the local
This project on the Nam Ngiep River, the tributary of the Mekong River which demarcates the border between Laos and Thailand, involves construction of a dam measuring 148 m high and 530 m along the top and two power stations of 270MW(Main plant) and 20MW(Sub plant). The electric power generated here will be sold to the Electricity Generating Authority of Thailand (EGAT) and Electricité de Laos (EDL). We acquired exclusive development rights in April 2006 and, as the project leader, have been promoting the project in collaboration with partners from multiple countries. In August 2013, we caused the project company to sign Power Purchase Agreement (PPA) with these two public corporations. Then, in November 2014, on the occasion of the launching substantial construction works for the main portion of the project, we held an Anzen-Kigan-Sai (ceremony to pray for safe construction work) and a loan agreement execution commemorative ceremony with the attendance of representatives of the Japanese government, the Lao government, the bank syndicate, and those involved in construction. From now, we will proceed with construction of the power station and transmission facilities with the target of commencing operation in 2019.
We, utilizing the experiences gained from our utility business in Japan, are engaged in process an quality control of the design and overall construction procedures. This scope of involvement has made it possible for us to place orders by separating the whole work into several types such as civil engineering and electrical and mechanical works. This opened the door for Japanese companies with a technological advantage to construct the dam and install the water turbine generators. We believe that we can contribute to expanding the export of infrastructure technology from Japan by making our advantages known and undertaking projects with an organization consisting mainly of Japanese companies.
Second Kurobe Hydropower Project
The Nam Ngiep 1 Hydropower Station will include a dam approximately the same size as the Kurobe Dam, the highest dam in Japan, yet with ten times the reservoir capacity. Consequently, we are undertaking this project as a challenge equivalent to constructing a second Kurobe Hydropower Project. More than ten emplyees are already in Laos to coordinate this project, and proceed with construction of dams and power houses.
Compare with Kurobe Hydropower Project

| | Nam Ngiep 1 | Kurobe |
| --- | --- | --- |
| Power Generation Method | Dam type | Dam waterway formula type |
| Total Reservoir Capacity | 22 hundreds million m3 | 2 hundreds million m3 |
| Dam Height | 148m | 186m |
| Power Output | 273 MW | 335 MW |
| Annual Power Generation | 1,447 MWh | 1,000 MWh |
Conceptual Drawing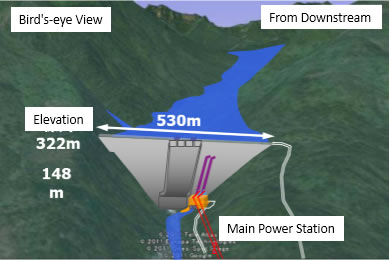 The Resettlement of the Local People (Hmong)
For the Nam Ngiep Project, relocation of residents is required because some areas will disappear after the dam is completed. A majority of residents belong to a minority ethnic group called the Hmong and subsist by cultivating rice and hunting. We have been investigating a resettlement plan based on instructions of the Lao government and Asian Development Bank, so that they can enjoy a better life while maintaining their own culture.

"In the Nam Ngiep Project, it is indispensable to maintain communication with residents because some areas will disappear after the dam is completed. As foreigners, It is very important for us to show our faces and spend time eating and sleeping with them under the same roof, within the context of building mutual understanding and trust. The area that will disappear is so remote that neither electricity nor water supplies are available. In this area, we bathe in a river, drink local liquor, and sleep under a mosquito net in the same way as the residents. We cannot express how delighted we were when we obtained the sympathetic understanding of the residents as a result of those efforts to build ties with the local community beyond words. We were able to experience similar happy events through our efforts to support various people including our colleagues living in a foreign country and local staff. As such, I think overseas business is really worthwhile because we build relations of mutual trust step by step with people in foreign countries, who we meet for the first time, and direct our efforts toward building a new future. I joined Kansai Electric with the hope of contributing to the development of the Kansai Region. But, what happened? I am actually working for the benefit of Laos. I will continue to do my best to contribute through my work with the Kansai brand not only to the Kansai Region but also worldwide so that people can enjoy comfortable lives."
――by the person in charge
Return to list
Other
Overseas

Projects