International Activities
Overseas Power Generation Business
Rajamandala Hydropower Project(Under construction )

Sign Power Purchase Agreement (PPA) with the State Electricity Company of Indonesia(PT PLN(Persero))

Memorial Tree-planting for construction starts
This 47 MW hydropower station project takes advantage of the head (vertical drop) between two hydropower stations located on the upstream and downstream reaches of the Citarum River. The power generated will be sold to the State Electricity Company of Indonesia (PT PLN (Persero)). Because this power station can utilize the water released from a dam-type peaking power plant located upstream, it will be able to replace some of the power generated by thermal power plants during peak hours, which will help to reduce CO2 emissions.
We obtained exclusive development rights in September 2007 and caused the projet company to sign Power Purchase Agreement (PPA) with the public corporation in August 2013. Next, we obtained permits and authorizations for the acquisition of land, right to use a river, and lease forest land, and concluded EPC contracts with contractors and a loan agreement with financial institutes*1 in March and June 2014, respectively. Then, in August 2014, we commenced preparatory works such as constructing temporary roads for construction. As those works progressed smoothly, we launched construction of the power station in October 2014. We will now proceed with construction works for the power station and transmission facilities, with the target of commencing operation in 2017.
This project was adopted as a Fast Track Project*2 within the framework of Jakarta Metropolitan Priority Areas for Investment and Industry (MPA), which the Japanese and Indonesian governments have promoted since 2011, and it is expected to be a low carbon power source that contributes stable power supplies to the Republic of Indonesia, where power demand is increasing sharply. Our company's aim is to contribute to long-term stable supplies of low-cost power supplies and economic development in the Republic of Indonesia, as well as to assure revenues from long-term sales of power to PLN.
*1 The project is co-financed by Japan Bank for International Cooperation and Mizuho Bank, Ltd., with project cash flow serving as collateral.
*2 The projects agreed between the governments of both countries to be the most important and the most urgent, and work is required to commence as soon as possible.
The first overseas hydropower project launched by a Japanese Company at site-finding stage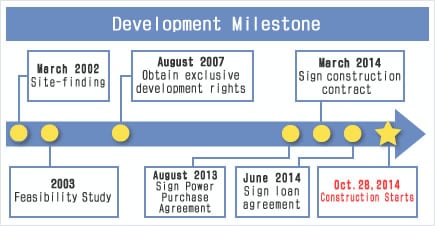 "This would be an ideal site for hydropower generation!" This discovery by an engineer of our company who visited the site was the spark that ignited this project. This is the first new hydropower project outside Japan in which a Japanese company has been involved with the whole process of the project from finding the site to assessing feasibility and arranging finance.
Return to list
Other
Overseas

Projects