A Guide To Electricity
Procedures for connectiong and disconnectiong electricity supply
To connect electricity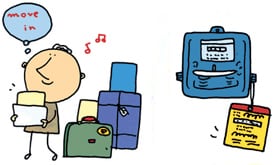 When you first move in and connect the electricity supply, turn all the switches on the breaker board to "ON," and confirm whether the electricity is being supplied or not. Once confirmed, contact your local Kansai Electric office to notify your name, address, the date of occupancy, and your customer number which is written on the envelope placed near the breaker or the meter.
※ Even if the breaker switch is ON, if there is no power, a repair person from Kansai Electric may be called.
※ If you wish to use an electric water heater, wiring and meters will be connected once your application has been accepted. You can start using the heater from the day after wiring is carried out, in order to heat water at night.
Breakers
Breakers are usually installed on a distribution board located in the entrance of the residence. The breakers consist of an earth leakage breaker (a main breaker) and safety breakers. (Some distribution boards have no main breaker.)

To disconnect electricity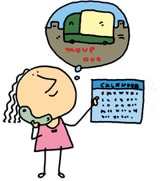 When you move out, you must arrange to have your power supply disconnected. Contact the nearest Kansai Electric office 4 or 5 days before moving and notify your name, the date you plan to leave and your customer number.