Nuclear Power Information


To Secure Redundant Power Supply and Cooling Functions
Installation of Redundant and Diversified Power Supply and Cooling Functions
When the earthquake struck the Fukushima Daiichi Nuclear Power Station of Tokyo Electric Power, landslides occurred first, causing transmission line towers to collapse and cutting off offsite power.
In response to the seismic motions, the reactors shut down in a normal state, and the emergency diesel generators started up, which cooled the reactors safely. However, the subsequent tsunami struck the power station, caused flooding and loss of important electric components, including the diesel generators. This resulted in a total loss of power and thus loss of reactor cooling.
Taking into account the lessons learned from the Fukushima Daiichi accident, we investigated the foundation surrounding the transmission line towers, which provide offsite power, to confirm the safety.
In addition, in preparation for a loss of power supplied by the diesel generators, we have deployed power supply cars and air-cooled emergency generators on hills, which can withstand potential earthquakes and are beyond the reach of tsunami, in order to secure redundant and diversified sources of power.
We also perform regular emergency drills to ensure that plant personnel would be able to use these power supply cars and generators to immediately feed electricity to the necessary locations.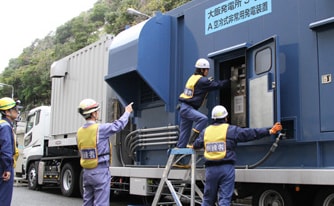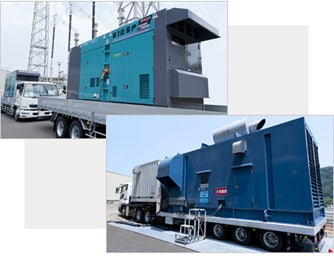 Maintaining the Cooling of Reactors under any Circumstances
In order to maintain cooling of reactors and spent fuel pools, it is essential to assure that pumps and water sources continue to provide cooling water, in addition to power supply.
During the Fukushima Daiichi accident, all important safety components and seawater pumps necessary for cooling the reactors failed, which made it impossible to cool the reactors and resulted in core damage. A large amount of hydrogen was generated as the accident progressed, and eventually exploded.
In order to prevent such a severe accident, we have deployed redundant and diversified cooling functions, including fire service pumps and large-capacity pumps to ensure that the reactor can continue to be cooled under any circumstances.
In addition to installing additional equipment, we also perform regular emergency drills to ensure that those involved would be able to take prompt action in case of an emergency, including arranging and operating the pumps as well as laying hoses.