Wholeheartedly : Inheriting safety spirits of Kansai Electric Power


Thorough security verification and teamwork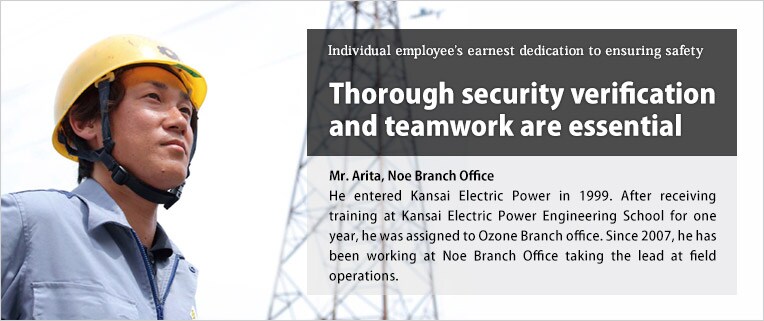 Some power transmission steel towers are as high as a 40-story building of about 150 meters, which may be terrifying only when one looks up. Our employees climb such high-rise steel tower and perform work activities on it.
"Once I lose the balance, I'll never recover it"
"This is the job required at least one year of training "
Says Mr. Arita of the Chief at Noe Branch Office. He is in charge of the maintenance of power transmission lines and steel towers. He is facing dangerous situations to pursue his duties; only keeping a balance straddling on a thin transmission line requires intensive training.
Electricity generated at power plants is delivered to customers passing through transmission lines via regional substations. In the event that an accident occurs in a high voltage transmission line, it may lead to massive power outages.
To prevent such a situation, he assumes the important role to support stable power supply. He performs patrols once every 3 months to check for the status of equipment and in case of an event he rushes to the scene of the event; he is required to work on daily check-up activities and also respond to an emergency.
In the event of an accident due to natural disasters, equipment and systems tell us the division where an accident occurs, but it is impossible to identify in which section of which iron steel the cause of the accident exists.
Finally it depends on our capabilities. I climb steel towers one by one until I find the location of the failure. If I cannot find any failure on one steel tower, then I move to another one.
Keeping in mind that early detection leads to early restoration to the normal status, I tackle my tasks; sometimes I climb 7 steel towers a day and sometimes I worked on a steel tower in heavy rain. He says he renews the feeling of motivation and satisfaction when he successfully finds the cause of the accident in early stages taking the advantage of advanced systems, geological conditions and his experience.
Thorough security verification and teamwork are essential
About 700 staff members including Mr. Arita are responsible for such maintenance work. They devote themselves to maintaining about 35,000 steel towers and total 10,000 kilometer long transmission lines.
Workers are exposed to the dangers inherent to the work activities on the steel tower.
To prevent the body from losing the balance, we are always equipped with double protective measures when climbing on the transmission line; we use an auxiliary rope as well as a safety rope winding the body and transmission line together.
In addition, to assure that any disasters caused by a drop of tools or materials will never happen, we perform thorough safety verifications by utilizing fall prevention ropes, always asking myself for safety assurance and monitoring mutual activities.
"We have to work in a very narrow space on the steel tower. Working with other several members, we may be at a confusion in identifying the position of my own safety rope hook. When I was a beginner, I nearly removed my senior's safety rope hook when I attempted to remove my hook. At that time, I was scolded badly. Since then, I have instructed my younger colleagues to confirm the hook before removing it as well as I confirm my hook when removing it by myself.
"Even in mid-summer, I climb up the steel tower wearing long-sleeved clothes and long trousers, putting safety shoes, putting 5 kilogram or heavier safety device, called the safety belt and holding the tool box on my back.
When I goes to replace an aged part, I had to carry devices and tools about 2 times heavier than usual. I sometimes go to the site on foot if the steel tower is located deep in the mountains where access by vehicles is impossible.
They pursue their work carefully and promptly after taking in-depth safety measures and thorough security verification. Creating an environment to perform work activities while taking into account the safety for the entire team as well as for himself is one of his duties.
On Mr. Arita's conduct card, the statement, "I always confirm the safety before taking an action" is inscribed.
Pause a moment to confirm the safety. Mr. Arita believes it is important above all to perform every work putting top priority on safety.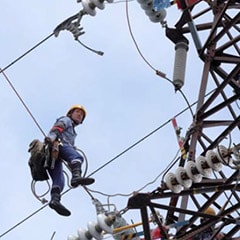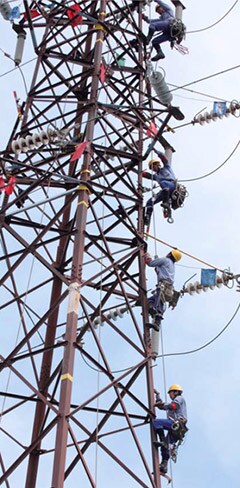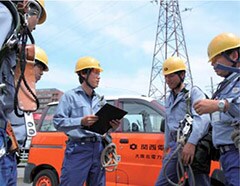 Posted on April 30, 2014