Corporate Social Responsibility
Commitment from the Top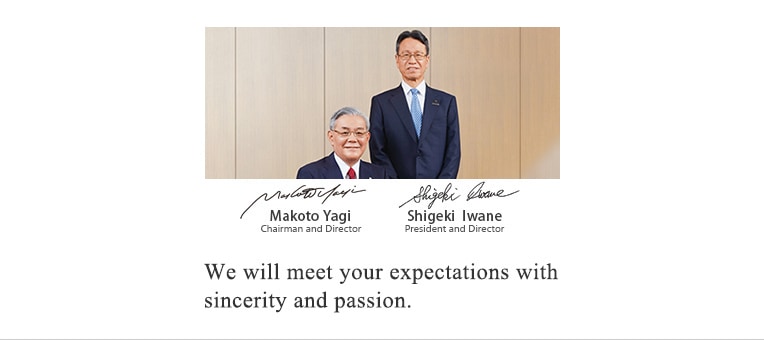 We wish to express our deep gratitude to all of you for your exceptional consideration.
In May 2016, our group celebrated its 65th anniversary of the foundation of the Kansai Electric Power Company (KEPCO). Looking back, the road to the present was certainly not always smooth. Notable accomplishments include completion of Kurobegawa No. 4 Power Station, which was said to be the most difficult construction project in the 20th century in Japan, being the first among all the domestic electric power companies to undertake nuclear power generation, recovering rapidly from the Great Hanshin Awaji Earthquake Disaster and assuring the stabilization of power supply and demand after the Great East Japan Earthquake Disaster.
We wish to express sincerely our deep and heartfelt gratitude for the support that we have received over the decades from our customers, shareholders and all other stakeholders. This has allowed our group to overcome all the challenges mentioned above and reach this milestone year.
The KEPCO group aims to become the choice of our customers now and forever.
In April this year, complete liberalization of the electricity retail market started, and complete liberalization of the gas retail market is scheduled to start next year. The energy business industry has entered an era of true competition with these changes and other deregulatory factors.
In order to take on challenges in this business climate and achieve sustainable growth in this "new energy era," our group formulated a Management Philosophy, Guidelines for Action and a Kansai Electric Power Group Vision that will guide us into the future.
In addition, we set forth our corporate brand statement, "power with heart" that clearly expresses our business policy and the values we provide. Each member of our group companies holds the belief that "we wish to become a dependable source of 'power' for our customers and society by working with sincerity and passion to provide valuable services". By doing these, all the KEPCO group corporations keep striving to become the choice of our current customers and our potential customers now and forever.
Furthermore, as the first step toward the realization of "the enterprise we want to become" set forth in the Kansai Electric Power Group Vision, we will move forward forcefully in fiscal year 2016 with the determination to take on challenges of the Medium-term Management Plan (2016- 2018), which is our three-year action plan that was made public in April.
We will keep on changing in order to fulfill our unchanging mission.
In this period of great upheaval, our corporate group has decided to set up a new management structure. Even with this renewal, in addition to "top priority to safety" and "surely fulfilling CSR obligations," which are items specified in our Management Philosophy and elsewhere, each member of the group companies will fulfill their duties so that we can "keep on changing to fulfill our unchanging mission," which is to "serve our customers and society." Doing so, we will put all of our effort into being able to earn your trust and respond to your expectations.
We ask all of you to provide your continued support and encouragement.
Conduct Card

President's Action Declaration

We will continue to serve our customers and society.
Ensuring safety is my mission, and the mission of the Company.